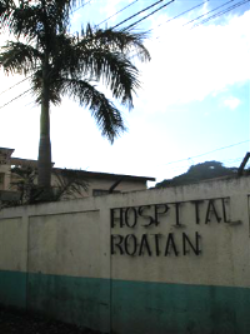 The Roatan public hospital is located in Coxen Hole. It serves as a referral centre for the entire Bay Islands,and provided 53,000 consultations in 2007. Of these, 18,000 were emergencies. The hospital has 33 beds,11 physicians and 10 nurses, plus visiting specialists from Cuba and volunteers. And it has the only 24 hour emergency unit in the Bay Islands.Medicines are out of stock 1/3rd of the time.

The hospital is funded by the Honduran government as part of the national public health system. The staff are ministry of health (MOH) employees, and medicines and supplies are provided every 3 months by the MOH central pharmacy in Tegucigalpa. Patients are entitled to free consultations and medicines (they pay an affordable administration fee of 2 lempiras, ie $0.10 per prescription).

But the public health system is woefully under-funded,a situation which is common across the developing world. As a consequence, the infrastructure is run down, most of the time there is no running water. Laboratory capabilities are very limited.

The hospital is understaffed,and the staff work tirelessly without pay for months at a time- these highly dedicated professionals deserve all our consideration and support.

And medicines are chronically out of stock: we estimate that 1 out of 3 patients go home without medicines after having seen a doctor.This is the situation we are adressing with the Medicines for Roatan program. Our budget is $1,500 per month to supply the medicines that are regularly out of stock.
---
Top